Hi there! Welcome to Randomly Creative. Created in 2014, Randomly Created is a place designed for reflection and positive growth. This is a one-stop-shop for your lifestyle, health, and politics needs. Want to learn more? Click the button below.
WHERE TO START? CLICK A BUTTON
CAN'T FIND WHAT YOU'RE LOOKING FOR? TYPE IT IN AND HIT SEARCH.
Powered by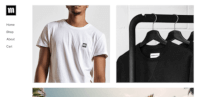 Create your own unique website with customizable templates.